Unitrends Storage Products & Solutions

Unified Data Protection, Without Limits

Unitrends increases uptime, productivity, and confidence in a world in which IT professionals must do more with less. Our all-in-one backup appliances simplify data protection, application spin-up, and SLA policy automation. Seamless integration with the cloud delivers long-term retention and fast disaster recovery.
Recovery Series Backup Appliances
A Recovery Series backup appliance converges enterprise backup, ransomware detection, and cloud continuity into a powerful, all-in-one platform.
More Productivity with All-in-One Simplicity
Your environment is complicated, but protecting it doesn't have to be. Get more free time with all-in-one backup appliances powered by simplicity. Unitrends solutions are pre-integrated and optimized with high-speed performance, deduplication, and predictive analytics needed to protect diverse environments. Built-in ransomware detection and SLA Policy Automation save time and deliver complete confidence in recovery.

No Finger Pointing
Disruptive all-in-one approach removes backup complexity, with "one-throat-to-choke" support.

Less Management
Pre-integrated backup appliances and intuitive software cut management time by 50%.

More Flexibility
Backup appliances grow with your business. Easily scale up, out, and to the cloud.

More Uptime
Reduce downtime with instant recovery, ransomware detection, and automated DR testing.

More Confidence
SLA policy automation proves recoverability and compliance — define, analyze, and report.

More Free Time
Predictive analytics proactively identify recovery issues. Spend your free time on other tasks.
Unitrends Software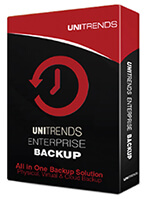 Unitrends Backup software is a core element of Unitrends integrated suite of all-in-one physical appliance, backup software and cloud empowered DR services. Unitrends Backup is designed with the flexibility and adaptability to eliminate multiple point solutions and decrease the amount of time IT staff must spend managing backup and recovery. Unitrends Backup software provides complete backup and recovery for your physical and virtual assets. It runs on the hardware of your choice as a virtual backup appliance. And, it can be delopyed on your premises or in select hyperscale clouds, such as Microsoft Azure™ and Amazon Web Services. From a single pane of glass, Unitrends intuitive user interface enables granular control of backup and recovery, on the enterprise premises, in the cloud, and across both environments. The customizable dashboard allows even the most complex task to be completed quickly and efficiently. Available in 4 editions, Unitrends Backup provides you with the flexibility required to address your evolving continuity requirements.
Try it for free!
Learn More!

VM Backup Essentials (vBE) is all-in-one Backup and Continuity Solution for VMware Environments

Backup Spanning Backup for Office 365 - Microsoft Exchange Online, SharePoint Online, and OneDrive for Business.

Reduce your disaster recovery costs by 90% with simple disaster recovery using AWS or Azure.