Unitrends VM Backup Essentials

All-in-one virtual backup appliance for VMware environments up to 6 sockets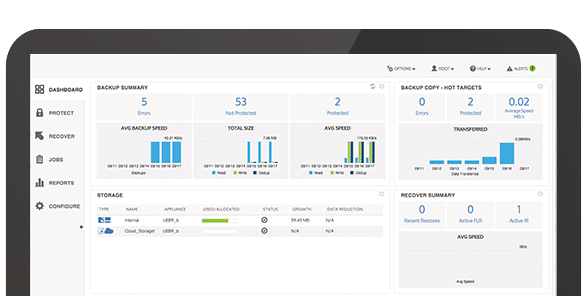 Overview:
VMware administrators managing 6 sockets or less have few resources, time and energy to devote to data protection and business recovery. It is about time that a backup vendor created a solution that is easier to use, has more features and is less expensive than Veeam.
Backup Software Reimagined for VMware Shops
vBE (VM Backup Essentials) is a new approach for protecting VMware machines. For 30% less than other offerings in the market vBE converges enterprise backup software, automated ransomware detection, and cloud continuity into a powerful, easy-to-use, all-in-one platform to protect VMware. vBE provides higher performance, easy cloud integration with a simple to use interface.
Secure, All-in-one Appliance
Protect your whole VMware environment simply and securely with the vBE all-in-one solution. Simply download, deploy, and quickly start backing up all of your VMware workloads. Manage all your VMware data backups, off-site replication, and recoveries from a single solution.
Affordably Priced
vBE annual subscriptions are priced 30% lower than other VM backup offerings. Priced per socket, vBE can protect up to 6 sockets. The integrated virtual appliance delivers the lowest total cost of ownership (TCO) as it includes the operating system, security, backup software, WAN acceleration, replication, cloud integration, and archiving.
Easy to Use Interface
Easily set all aspects of protection using an advanced, intelligent feature called SLA policy automation. Built-in one-glance, one-click dashboards and reports keep you fully up-to-date on the health and status of your backup and continuity strategy.
Deep Integration with the Cloud
Let the cloud be your secondary location. vBE easily manages protection for your VMware workloads in hyperscale clouds such as Google and AWS. Public clouds are fine if you want to manage their complexity on your own, but integration with a cloud purpose-built for DRaaS and White-Glove Services can take that responsibility off you completely.
Advanced Ransomware Protection
vBE has embedded artificial intelligence (AI) software to watch over your data. Running during every backup, predictive analytics automatically monitors data characteristics, flags suspicious files, and alerts administrators to ransomware threats.
Enterprise-Grade Deduplication
Data growth is an issue for backup solutions that don't include deduplication as part of the appliance. vBE includes enterprise-grade global and inline deduplication.
Intuitive User Experience
Reduces administration time through use of a customizable drag-and-drop management control dashboard and advanced features including SLA policy automation. Operations can be completed with 60% fewer clicks than required by competitive alternatives.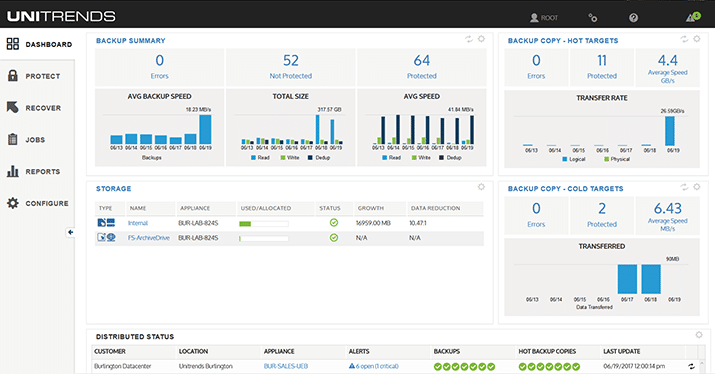 Features:
All-in-one solution — Provides integrated backup, replication, deduplication, and business recovery, eliminating the complexity and expense of multiple solutions.
Intuitive user experience -- Reduces administration time through use of a customizable drag-and-drop management control dashboard and advanced features including SLA policy automation. Operations can be completed with 60% fewer clicks than required by Veeam's alternatives.
Affordably priced — Annual subscriptions priced 30% lower than Veeam backup offerings currently on the market. Ultra-low TCO with little day-to-day management required.
Deep VMware integration — Agentless application-aware backups are designed to provide the highest levels of protection for VMware environments with no impact on production environments. vBE can protect up to 6 sockets.
Cloud-empowered continuity — you choose the type of cloud - hyperscale clouds such as Google or AWS, or offload the responsibility of managing your data protection and recovery program by choosing a purpose-built cloud and White Glove services.
Adaptive inline deduplication — Enables an average deduplication ratio of 20:1 or higher without requiring expensive and complex third-party devices or software.
WAN-optimized replication — Delivers WAN optimized backups by combining deduplication, deduplication acceleration, compression, and encryption for secure byte-level data transmission
Automated Ransomware Detection — vBE includes artificial intelligence that runs during every backup, analyzing the randomness of file changes to identify backups infected by ransomware. Upon detection email and dashboard alerts are immediately sent to administrators and all suspected backups are flagged with an icon.
Fast recoveries from all levels of disaster — Easily recover files, folders, or full applications regardless of the cause. Overcome hard drive crashes, power outages or even natural disasters. You choose the level of protection and recovery options.
Frequently Asked Questions:
vBE Licensing
How is vBE licensed?
vBE is licensed by socket and covers VMware virtual machines only. Base prices include one year of 24x7x365 support. Subscriptions of 3 or 5 years can be chosen at the time of initial purchase or renewal.
What does a socket license protect?
The "Socket or CPU (central processing unit) Socket" refers to the physical interface or connector that provides mechanical and electrical connections between a device (usually a microprocessor) and a printed circuit board (PCB) on an end user-owned or controlled computer or physical server, irrespective of make, size and processing capacity. In simple terms, it is the number of processor sockets that reside in a hypervisor host.
Do I need to license all sockets on a host running a hypervisor?
Only occupied sockets require a license, but ALL occupied sockets of the host must be licensed to protect its virtual machines. You are not permitted to protect virtual machines that run on unlicensed hosts. Because virtual machines can dynamically move between hosts, it is recommended to license all hosts available for a virtual machine to run on, even if protecting at the guest-level via an agent (see below for more FAQs on guest-level protection).
Are there any limits on the number of virtual machines that can be protected on that host?
No, there are no limits. The socket license unlocks the capability of protecting unlimited number of virtual machines on that host.
Is the socket license the number of sockets on the hypervisor host on which vBE is deployed?
The socket license is required for what vBE protects, not where vBE is deployed. It is the total number of occupied sockets in the host machines (hypervisor) of the virtual environment that is being protected. For example, in a given environment, if there are 5 VMware ESXi servers each having 2 CPU sockets, and there were 3 other VMware hosts each having 1 CPU Socket, then to protect all the virtual machines in this environment, you to purchase (5 * 2 + 3) = 13 number of socket licenses.
What does vBE Protect?
Are there any restrictions to the number of cores on the sockets?
No, there is no tiering of licenses based on the number of cores in the CPU socket.
What hypervisors can be protected with socket licenses?
vBE socket licenses can only protect paid editions of VMware hypervisors.
I don't want to protect my entire virtual environment. Can I select specific VMware sockets to be protected?
Yes, this configuration is possible. Note: Backups will only work on licensed sockets. If VMs move from licensed hardware to unlicensed hardware, then vBE will no longer be able to back up those VMs. Therefore, it is best practice to license all sockets where a VM could potentially run.
What is the amount of retention specified with a vBE license?
Infinite. The retention is directly proportional to the amount of storage that can be provided by the customer for backup. The license has no limits on retention.
What licenses are required for my DR site?
vBE supports replication to the cloud - both hyperscale clouds such as AWS, Google and Rackspace as well as clouds purpose-built for DRaaS services. Site-to-site replication is not supported at this time.
If I add additional sockets to my license, what is the termination date for the support on the additional licensed resources?
If you upgrade your license (for example, if you add sockets) all licenses must be co-terminated with existing subscriptions in place.
vBE Support
What level of support do I get with vBE?
vBE includes one year of all-access support—24 hours a day, 7 days a week, 365 days a year.
What installation services are available with vBE?
Yes, a variety of installation versions are available.
What is the time period of the trial license?
The time period for the trial license is 30 days. After 30 days, you can purchase a license to continue using vBE. Contact your vBE sales representative to purchase a license.