Unitrends Enterprise Backup Enterprise Plus

Adds recovery automation and analytics, AWS/Azure migration and DR, Exchange item recovery, AND MORE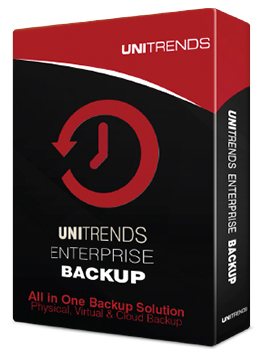 Unitrends Recovery-Series
Unitrends Enterprise Backup Enterprise Plus - Sockets
Enterprise Backup Enterprise Plus with Platinum Support, Per Socket, 1 Year
For any size environment, adds ReliableDR
#BU-ENPBPL-SKT12
Our Price: $1,699.00
Enterprise Backup Enterprise Plus with Platinum Support, Per Socket, 3 Years
For any size environment, adds ReliableDR
#BU-ENPBPL-SKT36
Our Price: $2,359.00
Enterprise Backup Enterprise Plus with Platinum Support, Per Socket, 5 Years
For any size environment, adds ReliableDR
#BU-ENPBPL-SKT60
Our Price: $2,975.00
Click here to jump to more pricing!
Overview:
Today's enterprises utilize a variety of physcial, virtual and cloud-based workloads. At the same time, they must care for legacy servers and diverse applications. By delivering a 100% completely integrated backup and continuity solution, Unitrends enables IT professionals to focus on the core business objectives rather than on downtime and backup.
Unitrends Backup software is a core element of Unitrends integrated suite of all-in-one physical appliance, backup software and cloud empowered DR services. Unitrends Backup is designed with the flexibility and adaptability to eliminate multiple point solutions and decrease the amount of time IT staff must spend managing backup and recovery. Unitrends Backup software provides complete backup and recovery for your physical and virtual assets. It runs on the hardware of your choice as a virtual backup appliance. And, it can be delopyed on your premises or in select hyperscale clouds, such as Microsoft Azure™ and Amazon Web Services. From a single pane of glass, Unitrends intuitive user interface enables granular control of backup and recovery, on the enterprise premises, in the cloud, and across both environments. The customizable dashboard allows even the most complex task to be completed quickly and efficiently. Available in 4 editions, Unitrends Backup provides you with the flexibility required to address your evolving continuity requirements.
Whether you're trying to protect one VMware vSphere host with a hand full of VM's or a mixed data center and cloud environment with physical servers and thousands of vSphere and Hyper-V virtual machines, Unitrends Backup does it all.
Unitrends Backup Editions
Essentials
Standard
Enterprise
Enterprise Plus

Protects up to 10 resources* (servers or sockets)

VMware and Hyper-V Hypervisor-level protection
VM and Windows Instant Recovery
Local and cloud back up copies
Integration with Unitrends Cloud
Physical and virtual file protection
24X7 customer support

Scales to protect any size environment

Adds second-site WAN optimized backup copies
Adds NAS file protection
XenServer Hypervisor Level Protection

Scales to protect any size environment

Adds enterprise application protection

Scales to protect any size environment

Adds NDMP
Adds Recovery Assurance (powered ReliableDR)
Adds automated RTO/RPO compliance testing
*A resource is a protected server for physical servers or a CPU socket for virtual environments.
Pick your flavor: VMware or Hyper-V virtual appliance, or Linux application
Designed from the ground up, Unitrends Enterprise Backup runs as a fully integrated, prepackaged virtual appliance on VMware (including the latest version vSphere 6), or Microsoft Hyper-V. UEB is also available as an installable Linux-based application for Red Hat Enterprise Linux (RHEL) orCentOS. To help you select, the chart below discusses differences in platform implementations. Beyond these, the UEB capabilities of each edition carry across the choices of deployment options. Please refer to UEB Edition Comparison chart for feature details of the Editions.
Unitrends Enterprise Backup
Virtual Appliance
Linux Distribution
VMware vSphere
Microsoft Hyper-V
Red Hat Enterprise Linux (RHEL)
CentOS
Protection Capacity
50 TB
50 TB
100 TB
100 TB
Backup copy to tape
Backup copy to USB disk
Backup copy to eSATA disk*
*Archive to eSATA requires a SAS Controller 9211-4i on the host.
*A resource is a protected server for physical servers or a CPU socket for virtual environments.
Features:
All-in-one solution — Provides integrated backup, replication, deduplication, archive and instant recovery, eliminating the complexity and expense of multiple solutions.
Intuitive user experience — Reduces adminstration time through use of a customizable drag-and-drop management control dashboard. Operations can be completed with 60% fewer clicks than required by competitive alternatives.
Heterogeneous protection — Delivers virtual and physical protection of over 250 versions of operating systems, hypervisors and applications.
Flexible virtual protection — Host and guest level protection for VMware VSphere, Microsoft Hyper-V, and Citrix XenServer.
Protects large scale deployments — Enhanced storage integration with NDMP NAS protection, automated recovery testing, and compliance testing tools.
Cloud-Empowered continuity — Integrated with Unitrends Cloud for long term retention and Unitrends Disaster Recovery services (DRaaS) to provide rapid spin-up in the cloud of critical servers in the event of a local outage.
3rd Party cloud integration — Integrate with 3rd party hyperscale clouds for low cost cloud storage or choose to provide protection for cloud workloads and off-site backup copies of on premises backups by running Unitrends Backup in the Microsoft Azure Cloud or Amazon Web Services. Unitrends Backup can even be used to create cloud-based off-site backup copies for your local backups or to protect your workloads running as VMs within that same cloud.
Recovery Assurance — Enterprise Plus includes the industry's only automated recovery solution for Windows Physical, VMware, and Hyper-V virtual environments, dramatically reducing the cost of disaster recovery testing and increasing confidence in being able to meet your RTO Goals.
Adaptive inline deduplication — Enables an average deduplication ratio of 20:1 or higher without requiring expensive and complex third-party deduplication devices or software.
WAN-optimized replication — Delivers 2nd site WAN optimized backups by combining deduplication, deduplication acceleration, compression, and encryption for secure byte-level data transmission.
Instant Recovery — The only solution that provides Instant Recovery for Windows, VMware vSphere, Microsoft Hyper-V and Unified Bare Metal Recovery.
World-class RPO — Provides near continuous data protection by enabling backups as often as every 60 seconds.
Hyper-V Change Block Tracking — Improves incremental backup windows by up to 50X, allowing for much shorter RPOs for hypervisor level backups.
Unitrends Bridge — Delivers local instant recovery of physical (P2V) or virtual (V2V) workloads in one click.
Distributed Enterprise Management — Distributed Enterprise Management is a feature in Unitrends Backup software that allows administrators to grant role-based management rights of specific backup files. This enables controlled self-service recovery and improved security by allowing owners to manage and control their own backup and continuity data.
Automated Ransomware Detection— Unitrends Backup includes artificial intelligence that runs during every backup, analysing the randomness of file changes to identify backups infected by ransomware. Upon detection email and dashboard alerts are immediately sent to administrators and all suspected backups are flagged with an icon.
Deployment:
Flexible Packaging and Deployment Options
Unitrends Backup software can be purchased as a fully integrated, prepackaged virtual appliance running on VMware vSphere, Microsoft Hyper-V, or XenServer or as installable software for Redhat Enterprise Linux (RHEL) or CentOS. Unitrends Backup can also be deployed as a virtual machine (VM) within the Microsoft Azure or Amazon Web Services cloud.
Choose from 4 editions, ranging from the Essentials Edition for basic backup to the Enterprise Plus Edition that provides a full array of enterprise class features, including Recovery Assurance to automatically certify your recovery is working properly. Support from our award-winning team is included with all editions.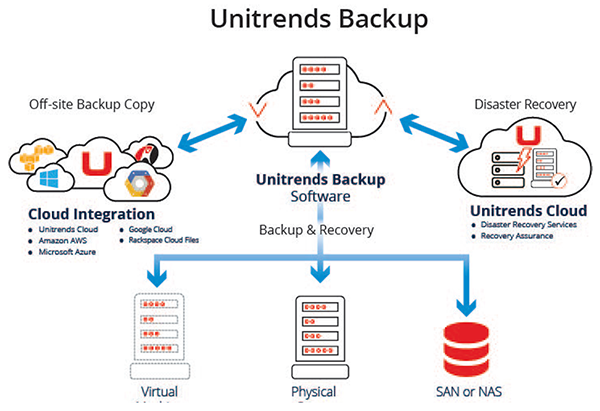 Figure 1: Unitrends Backup Example Architecture
System Requirements: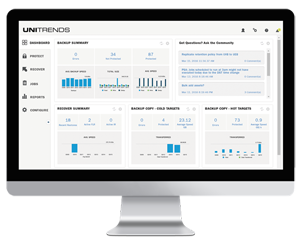 The Unitrends Backup software solution can be deployed as a physical appliance, a virtual appliance for VMware, Hyper-V or XenServer as installable Linux software or deployed as a VM in Microsoft Azure. 
Designed for today's busy IT professional, an intuitive and customizable dashboard and low click count means that even the most complex task can be completed quickly and efficiently.
Unitrends Backup Deployment Options
Unitrends Backup Virtual Appliance
Fully integrated, prepackaged virtual appliance
Runs on VMware vSphere (including vSphere 6).
Runs on Microsoft Hyper-V.
Runs on Citrix XenServer.
Good for a range of organizations focused on virtualization, from small business to enterprise.
Compare Unitrends Backup Versions
| | Unitrends Free | Essentials | Standard | Enterprise | Enterprise Plus |
| --- | --- | --- | --- | --- | --- |
| Supported Environment | Up to 1 TB | Up to 10 Resources | Any Size Environment | Any Size Environment | Any Size Environment |
| Proactive Ransomware Detection | | | | | |
| Self-Service for Application Owners | | | | | |
| 24×7 Customer Support** | Community Support | | | | |
| VMware vSphere Hypervisor-Level Protection | | | | | |
| Hyper-V Hypervisor-Level Protection | | | | | |
| XenServer Hypervisor-Level Protection | | | | | |
| VM Recovery (Instant, Full, File) | | | | | |
| Hyperscale Cloud Backup Copies | | | | | |
| Physical and Virtual File Protection | | | | | |
| Compression | | | | | |
| Guest Recovery (Instant, Full, File) (Physical & Virtual) | Windows Only | | | | |
| Unitrends Cloud | | | | | |
| Global Deduplication | | | | | |
| Local Backup Copies (NAS, DAS, and SAN) | | | | | |
| NAS Protection (File Level) | | | | | |
| Second-Site WAN-Optimized Backup Copies | | | | | |
| Database Protection for SQL Server & Oracle | | | | | |
| Application Protection for Exchange & SharePoint | | | | | |
| Cisco UCS Service Profile Protection and Granular Recovery | | | | | |
| Distributed Enterprise Manager | | | | | |
| NAS Protection (NDMP) | | | | | |
| Scheduled Automated Recovery Testing | | | | | |
| Automated Failover | | | | | |
| RTO / RPO Compliance Reporting | | | | | |
| Failover / Failback to AWS / Azure | | | | | |
| Unlimited granular Exchange recovery | | | | | |
* A resource is a protected server for physical servers or a CPU socket for virtual environments. **1 year of 24×7 Support with an annual renewal available. Support terms of 3 or 5 years can be chosen at the time of initial purchase or Support plan renewal. Software licenses are perpetual.
Note: Unitrends Free can send backup copies to Amazon Web Services (AWS) and Google Cloud Storage only.
Frequently Asked Questions:
How is Unitrends Backup licensed?
Unitrends Backup software is licensed by socket for hypervisors and by server for physical machines. Four editions of the software are available. Base prices include one year of 24x7x365 support with an annual renewal available. Support terms of 3 or 5 years can be chosen at the time of initial purchase or Support plan renewal. Software licenses are perpetual.
Can I mix and match the editions of my sockets and server licenses?
In general, all licenses for a single customer must use the same edition. It is possible to purchase separate editions for a single customer if the licenses are used to protect completely separate and isolated environments that do not replication to each other or share functionality.
What does a server license protect?
A Unitrends Backup server license protects physical machines running a non-hypervisor operating system, such as Windows or Linux—see the Unitrends Compatibility and Interoperability Matrix for a full list of supported environments. The functionality available for protection and recovery is based on the edition purchased.
What does a socket license protect?
The "Socket or CPU (central processing unit) Socket" refers to the physical interface or connector that provides mechanical and electrical connections between a device (usually a microprocessor) and a printed circuit board (PCB) on an end user-owned or controlled computer or physical server, irrespective of make, size and processing capacity. In simple terms, it is the number of processor sockets that reside in a hypervisor host.
Do I need to license all sockets on a host running a hypervisor?
Only occupied sockets require a license, but ALL occupied sockets of the host must be licensed to protect its virtual machines. You are not permitted to protect virtual machines that run on unlicensed hosts. Because virtual machines can dynamically move between hosts, it is recommended to license all hosts available for a virtual machine to run on, even if protecting at the guest-level via an agent (see below for more FAQs on guest-level protection).
If I purchase a socket license, are there any limits on the number of virtual machines that can be protected on that host?
No, there are no limits. The socket license unlocks the capability of protecting unlimited number of virtual machines on that host.
On a Hyper-V host machine, I would like to protect all the virtual machines on it as well as protect the Hyper-V server itself from a disaster. What licenses do I need for that?
Unitrends Backup can protect the physical Windows Server that is running the Hyper-V role for a virtual environment. Because the Hyper-V role is used to run virtual machines (a hypervisor), the socket license allows you to protect the physical Windows data as well as the virtual machines. All occupied sockets must be licensed.
Is the socket license the number of sockets on the hypervisor host that Unitrends Backup is deployed on?
The socket license is required for what Unitrends Backup protects, not where Unitrends Backup is deployed. It is the total number of occupied sockets in the host machines (hypervisor) of the virtual environment that is being protected. For example, in a given environment, if there are 5 VMware ESX servers each having 2 CPU sockets, and there were 3 Hyper-V hosts each having 1 CPU Socket, then to protect all the virtual machines in this Hyper-V and VMware environment, you to purchase (5 * 2 + 3) = 13 number of socket licenses.
With a socket license, when would I choose to deploy an agent to virtual machines to protect them at the guest-level?
In most cases, the socket license covers the virtual environment completely. However, there can be caseswhere some virtual machines should be – or must be – protected at the guest-level. Some of them are noted here:
If the virtual environment being protected is running unlicensed VMware ESXi free, hypervisor-level backups cannot be performed. In this environment, every virtual machine that needs to be protected must have an agent installed to protect it at the guest-level.
Databases and applications can be protected at the hypervisor-level. However, in some cases, hypervisor backups cannot backup those virtual machines as frequently as you may like without interruption to the application itself. This problem can be solved by protecting granularly at the application-level, rather than the hypervisor-level. Requires Enterprise edition and above.
In order to reduce backup times and storage usage, you may want to protect just an application or certain files and not the entire virtual machine. Guest-level protection allows you to select specific files and folders to be protected. If you have a virtualized VMware environment that leverages Raw Device Mapping (RDM) in physical compatibility mode, that virtual machine's RDM disk is automatically excluded from the hypervisor-level backup. To protect this data, that virtual machine must be protected at the guest-level.
If you would like the ability to search at a file level across backups for restore purposes, guest-level protection provides this capability.
If you want to run pre- or post-commands as part of the backup, for example, if you perform a backup of a third party database by running a script to pause the database before performing the backup.
If you would like the ability to perform dissimilar bare metal restore of this virtual machine.
If any NAS, iSCSI, or additional physical storage is attached to the virtual machine and should be included in the backup.
If the virtual machine is very large and could be backed up more efficiently with a file-level agent.
What licensing is required to run agent-based guestprotection on a VM?
Guest-level protection for virtual machines is a feature of the socket license. As a result, virtual environment licensing is simple because there are no separate fees per agent or VM. Therefore, in order to take advantage of guest-level protection, the virtual machine must be running on a host that is covered by socket licenses.
How does Unitrends Backup protect Network-Attached Storage (NAS) devices?
Unitrends Backup can protect NAS devices at the file-level in Standard edition or above and with NDMP in Enterprise Plus edition.
Can Unitrends Backup protect desktops?
Yes. However, desktops are licensed and priced separately from the socket and server licenses discussed above. Please contact your sales representative for more information.
Are there any restrictions to the number of cores on the sockets?
No, there is no tiering of licenses based on the number of cores in the CPU socket.
What hypervisors can be protected with socket licenses?
Socket licenses can protect many hypervisors, with some even only protected at the guest-level. As a result, you can purchase socket licenses for the following hypervisor vendors:
Hypervisor AND guest: Paid VMware, Hyper-V, and XenServer
Guest-only: Free ESXi, KVM/RHEV, Oracle Virtual Machine (OVM)
Note: Standard Edition and higher are required for the XenServer, KVM/RHEV, and Oracle
I don't want to protect my entire virtual environment. Can I select specific ESXi and Hyper-V sockets to be protected?
Yes, this configuration is possible.
Note: Backups will only work on licensed sockets. If VMs move from licensed hardware to unlicensed hardware, then Unitrends Backup will no longer be able to back up those VMs. Therefore, it is best practice to license all sockets where a VM could potentially run.
Can I run the Kroll PowerControls tool for a hypervisorlevel backup of a virtualized Exchange or SharePoint environment?
Yes. You can leverage the file-level restore capability to expose the Exchange and SharePoint virtual machine and point Kroll to it for item recovery.
What is the amount of retention specified with a Unitrends Backup license?
Infinite. The retention is directly proportional to the amount of storage that can be provided by the customer for backup. The license has no limits on retention.
Can I configure the Unitrends Backup as a backup system as well as a replication target, thereby configuring it for cross- replication?
Unitrends Backup virtual appliances can only be configured for backup or backup copies (replication).
If I configure Unitrends Backup as a replication target for Recovery Series appliances, will the Unitrends Backup target have Enterprise Plus capabilities?
Yes, IF the Recovery Series appliance is also an Enterprise Plus edition. The features available on the UB replication target will match the licensing of your Recovery Series appliance.
What licenses are required for my DR site?
If a disaster recovery site is only used to recover your protected site, then you must have at least Standard edition or higher in order to copy data to the second-site in a WAN optimized fashion. The ability to recover within the DR site does not require any special licensing. If you want to take advantage of the automated testing and failover capabilities of Recovery Assurance, that functionality requires the protected site to be licensed with Enterprise Plus edition. If you plan on protecting data in both sites, then the second-site does require socket and/or server licensing in order to backup data at the second site.
If I add additional sockets or servers to my license, what is the termination date for the support on the additional licensed resources?
If you upgrade your license (for example, if you add sockets) all licenses must be co-terminated with existing support contract in place.
What level of support do I get with UB?
UB includes one year of all-access Support—24 hours a day, 7 days a week, 365 days a year. A longer support term is available at time of purchase or renewal.
Yes, a variety of installation versions are available.
What is the time period of the trial license?
The time period for the trial license is 30 days. After 30 days, you can purchase a license to continue using Unitrends Backup.
Are not for resale (NFR) editions available?
Yes. NFR licenses can be requested through Unitrends sales and channel representatives. The 1 year NFR license, available to certified Microsoft and VMware professionals, protects unlimited virtual machines with 4 socket licenses along with 2 server licenses, 2 application add-on licenses, and 1 NDMP license.
Can the Unitrends Backup free trial be configured as a replication target?
Yes. Both the free trial and NFR Editions can be configured as a replication target.
Are software upgrades available to free trial users?
Yes. At the end of the trial period, you can upgrade to a licensed version of Unitrends Backup and continue on with the backup process you had put in place with the trial version. There will be no interruption!
Pricing Notes: